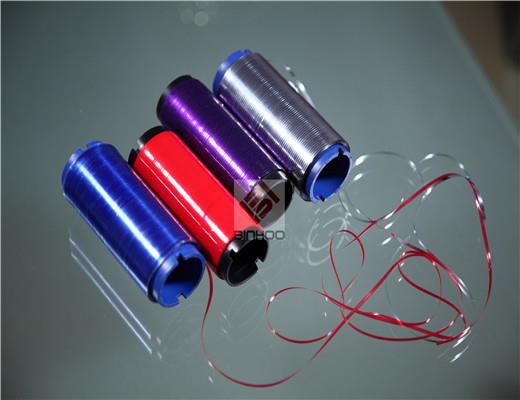 Add to Favorites
Share
Anti-counterfeiting Tear Tape
Payment

Origin

China Mainland

Minimum Order

1

Packing

Pieces
Product Detail
Product Presentation:

Pressure sensitive or self-adhesive tear tape is the third-generation product of its kind. It makes easy opening for flexible packaging in the case of cigarette packets. Different substrates are used to manufacture the tear tape, e.g. PET, OPP, MOPP, MOPET, etc.

In addition to transparent tear tape, some sophisticated inks and print techniques can be employed to create striking visual effects or help brand owners to protect their products against counterfeiting.

SHANGHAI BINHOO PACKAGING MATERIALS CO., LTD.

Test Data

Parameter

Unit

Target

Standard

Appearance

/

Clean and tidy, no odor

Sense

Winding

/

Fill in Supplier Internal Control Target

Visual test

length

m

=5000m

Counting

Width

mm

2mm±0.2

Reading Microscope

Thickness

um

45 ±1.0

GB6672

ID of Inner Core

mm

29±0.5

Vernier Caliper

Tensile Fracture Length

Mpa

=110

GB13022

Breaking Elongation

%

=135

GB13022

Tension

kn/m

=3

Tensiometer

Thermal Shrinkage

%

=3.5

Packaging/Shipping/delivery: Carton packing and pallets packing, the size could be tailored as customer's needs. Shipping way including sea, land, air, or other ways which are workable for you, and normally the production lead time is 10 days after your payment.

Company introduction:

Binhoo International Holding Group is a consortium that specializes in designing, production, trade in goods and services. Its subordinate Shanghai Binhoo Packaging is a specialist manufacturer and supplier of cigarette-related raw and auxiliary materials. It aims to integrate global resources in quality raw and auxiliary materials and focuses on supplying small and medium sized tobacco businesses with one-stop solution to their requirements for cost-effective outsourcing of the materials and technical services. The materials range from custom-made cut tobacco, tobacco leaf, filter rod, acetate tow, glue, flavors, through to all the packaging materials such as cigarette packaging boxes, tipping paper, aluminum foil paper, BOPP, tear tape, inner frame, plug wrap paper, etc.

ISO CERTIFICATION:

The attached photos are for your reference. If you have the design of your mind, please feel free to send it to us or if needed, we're appreciated to help you to do the design. Our professional designer and sales dep.will work hard with you together and find a best solution based on your ideas. Thanks.

We will be very pleased to receive your inquiry and reply you within 24 hours. In the meanwhile, you are always welcome to visit our own factory!

Name:BINHOO INTERNATIONAL HOLDING GROUP

Add:12A(B), Fengyuan Plaza, No.909, New Songjiang Road, Songjiang District,Shanghai, China 201620

Tel:+86 21 57811986

Fax:+86 21 57813990

E-mail: sales@binhoo.cn info@binhoo.cn

FACTORY :

Name:NINGBO FORSUN PACKAGING TECHNOLOGY CO., LTD

Add:NO.58, JINKAI ROAD, BINHAI INDUSTRIAL PARK, XIANGSHAN COUNTY, NINGBO CITY, ZHEJIANG PROVINCE, CHINA

Binhoo Packaging is an ISO9000 certified enterprise in China, which has been well-known as one of the leading anti-counterfeiting tear tape manufacturers and suppliers since 1947. With wide experience and expertise, we are developing and manufacturing high quality cigarette related products with fine design. Now, please be free to get custom anti-counterfeiting tear tape for sale from us.
2
YRS
Shanghai Binhoo Packaging Materials Co.,Ltd
China
Favorites